Conference 2008
For the second year in a row, and for the third time overall, the conference was held at "Kilden" in Denmark outside of Roskilde. However, this conference was to see many changes. It was a day longer than usual, so started on Wednesday instead of Thursday, dates were July 30th-Aug 3rd 2008. Also we had 11 main sessions, instead of 6 and more workshops were added.
Instead of having two or three guest speakers we now had several more. This year speakers, that took us through the book of Daniel included: Joel Wickström (Stockholm, Sweden), Stan Block (Calgary, Canada), Daniel Jacobsen (Hillerød, Denmark), Theis Brøgger (Århus, Denmark), Kevin Fitzgerald (Dublin, Ireland), Aaron Pratt (Turku, Finland), Glen Nudd (Calgary, Canada) and of course David Guzik.
Also this conference was to be, by far, the largest conference to date and "Kilden" was packed out.
| Scripture | Title | Teacher | Length | Date | Download |
| --- | --- | --- | --- | --- | --- |
| Daniel 1 | - | Joel Wickström | 46 min | 30.07.08 | Mp3 |
| Daniel 2 | - | David Guzik | 45 min | 31.07.08 | Mp3 |
| Daniel 3 | - | Stan Block | 40 min | 31.07.08 | Mp3 |
| Daniel 4 | - | Daniel Jacobsen | 44 min | 31.07.08 | Mp3 |
| Daniel 5 | - | Theis Brøgger | 56 min | 01.08.08 | Mp3 |
| Daniel 6 | - | Kevin Fitzgerald | 47 min | 01.08.08 | Mp3 |
| Daniel 7 | - | David Guzik | 49 min | 01.08.08 | Mp3 |
| Daniel 8 | - | Aaron Pratt | 50 min | 02.08.08 | Mp3 |
| Daniel 9 | - | David Guzik | 56 min | 02.08.08 | Mp3 |
| Daniel 10 | - | Kevin Fitzgerald | 54 min | 02.08.08 | Mp3 |
| Daniel 11-12 | - | Glen Nudd | 66 min | 03.08.08 | Mp3 |
| Scripture | Title | Teacher | Length | Date | Download |
| --- | --- | --- | --- | --- | --- |
| Job 31 | Blameless and Upright Man | David Guzik | 62 min | 01.08.08 | Mp3 |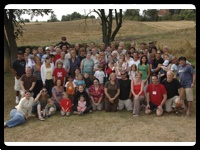 ---
These conference archive pages is a work-in-progress. We know that not all group photos have been uploaded, and that we don't have complete descriptions of every conference. Also some of the recorded teachings are not at our disposal. Should you have any information that would complete these pages even more please let me know at daniel@calvarychapel.dk
Disse sider forekommer kun på engelsk så alle der har taget del i konferencerne har mulighed for at forstå hvad der står