Introduction
These years the conferences started Thursday evening and ended on Sunday afternoon. Though the teaching was recorded we do not have these recordings available due to the fact that Calvary Chapel Malmö is no longer in existence.
Conference 1999
This is being investigated and we will post it as soon as we have the correct information.
Conference 2000
In the new millenium the Conference was in Skanör. To our great amusement this is known as "The Hawaii of Sweden". It poured the entire conference. This was also the year of the opening of the bridge between Denmark and Sweden, celebrated with "huge" fireworks.
Joining David Guzik in the list of speakers was Ralph Wood. Together they took us through the book of Joshua.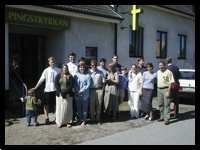 Conference 2001
Again CC Malmö did a great job hosting the conference. This time at a campsite called "Bosarpgaarden". Once more we had the pleasure of listening to David Guzik and Ralph Wood.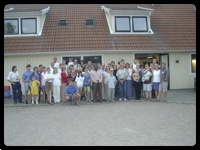 Conference 2002
For the fourth year in a row the conference was in Sweden. This time in CC Malmö's own meeting place. David and Ralph took us through an indepth study of Acts 2:42.
---
These conference archive pages is a work-in-progress. We know that not all group photos have been uploaded, and that we don't have complete descriptions of every conference. Also some of the recorded teachings are not at our disposal. Should you have any information that would complete these pages even more please let me know at daniel@calvarychapel.dk
Disse sider forekommer kun på engelsk så alle der har taget del i konferencerne har mulighed for at forstå hvad der står