Conference 2005
The 2005 Conference saw a shift in the setup. Several new speakers were brought in. And we were back in Sweden. The speakers included: David Guzik, Pierre Petrignani (CC Nice), Peter Will (Hannover) and others. This is also the only conference where the teaching wasn't through a passage of Scripture or a book of the Bible. The theme was "Christianity in post-modern Europe".
No group photo or recordings are available from this year
Conference 2006
Again back in Denmark. This time at "Gamle skole" outside of Sorø. The topic was "Life of David" taught by Mark Walsh, David Guzik and more. Unfortunately no recordings remain from this year either. The leadership now consisted of Theis Brøgger and Daniel Jacobsen.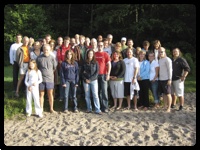 ---
These conference archive pages is a work-in-progress. We know that not all group photos have been uploaded, and that we don't have complete descriptions of every conference. Also some of the recorded teachings are not at our disposal. Should you have any information that would complete these pages even more please let me know at daniel@calvarychapel.dk
Disse sider forekommer kun på engelsk så alle der har taget del i konferencerne har mulighed for at forstå hvad der står