Calvary Chapel Budapest, Hungary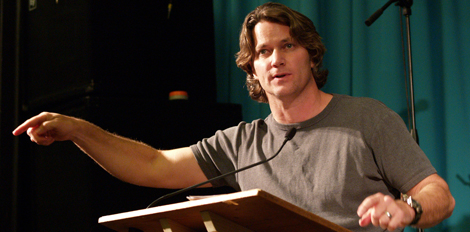 Continuing the 2005 series of interviews with pastors from various Calvary Chapels around Europe, Calvary News Network has put 10 questions to Pastor Greg Opean of CC Budapest. Here, the American pastor describes how God has turned a 10-person Bible study into a church of 1,200, how their Gospel choir is bringing Jesus to hundreds of non-believers, and also what Calvary Chapel leaders around the world should look out for at this time in the movement's history.

How did God call you to be a pastor?

After getting saved my freshman year at UCSD in La Jolla, California in the early 1980's, I immediately moved in with 4 staff members of Campus Crusade for Christ. These guys challenged me to find my place in ministry, which I did soon after, at a local Calvary Chapel where I was taken under the wing of the pastor & assistant pastor…

At first I became a worship leader at a home-fellowship. Then I moved into a house by the beach with the Assistant Pastor named "Bear", and our house quickly turned into a "ministry house" where people gathered almost every day for prayer, worship, Bible study and surfing.

During this time, although attending the University I realized that God was calling me to ministry… 25 years later, having served in worship, youth, and church planting, it seems that this has indeed been the call of God on my life.
What is God doing in and through CC Budapest these days?

All kinds of things. One exciting thing is that we now have 14 home-fellowships led by Hungarian men who I consider elders in the church. These same guys open the Sunday services with 5 minute "words", encouraging the congregation towards Worship and Communion; they also close the worship in prayer. Several of them now even take the pulpit and teach the main services when I am away. All of them teach at our church conferences.

One of them is a teacher at the Bible College in Vajta. A couple of them are presently venturing out and planting a second Calvary Chapel on the Northern edge of Budapest with over 50 people now in attendance. Another one of our elders along with 5 other young people are venturing south about an hour and a half every week and starting a Bible study in a town called Csongrad. Yet another takes the train into the Transylvania region of Romania and is planting a church in a city called Arad. In 3 months the new Bible study there has grown to a core group of over 30 people.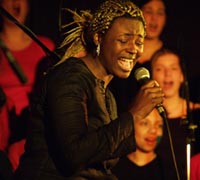 The Gospel Choir of CC Budapest is
planning to go on tour in 2006.
But our Gospel Choir, directed by Mark Zeeman the piano man, has proved our greatest outreach tool to the community! We recently had a 6 concert series with 2,400 (more than half non-believers) in attendance, some of which have come to the Lord and are now part of the church.

We recently completed a recording studio in the basement of our theatre and it's now booked for over a year with Hungarian Christian bands lined up to record their stuff. We have also recently launched an Internet Radio station: "Golgota Radio". There is non-stop music, teaching and interviews. Our two Wednesday night services and our two Sunday morning services are also now going out live for anyone to tune into. Hungarians (or anyone for that matter) anywhere in the world, can tune in by going to Golgota.hu and then click on "Golgota Radio". We are getting emails from all over the world from people who are tuning in… it is amazing to us.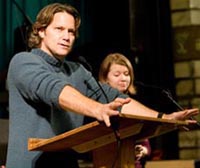 Pastor Greg teaches in English
with translation into Hungarian.
What part of the culture and mentality in Hungary is the biggest obstacle to overcome when advocating a personal, living relationship with Jesus Christ?

I read an article several years ago that listed Hungarians as second only to Mexicans in being pessimistic. The "can't do" attitude among some has been a challenge. Another thing we deal with is that many Hungarians' only concept of Christianity is one of dead religion… or on the other hand, the extreme health/wealth hype.
What is the most rewarding part about serving God in Hungary?

To see the effect of God's Grace and verse-by-verse teaching through the Word of God in transforming now hundreds into free, and joyful, worshippers of God. Another is to see men and women come to believe God and have a positive outlook and expectation from HIM.
Do you work together with other Calvary Chapels in Europe in any way?

O yes, for example, we have a very close relationship with Calvary Chapel Bible College Europe (CCBCE) in Hungary… Phil Metzger, Paul Lange, and Mark Walsh who are the leadership core there as well as beloved guest speakers in our church. Together with CCBCE, we also host all kinds of conferences yearly that are open to all Calvary's in Hungary and the surrounding nations. These include several pastors/elders conferences each year attended by some 25 pastors and 100 elders from the churches in Hungary and some surrounding countries.

We also have women's conferences in Budapest hosted by my wife, Jennifer, and open to all. We have several Bible school students from our church attending CCBCE in Hungary each semester, and it's amazing what God does in their lives there. We also work together with other Calvary Chapels through specific outreaches. For instance, our choir has done concerts in several Hungarian cities, and now we are planning a Choir Tour that will take us to the three Calvary Chapels in Italy ending in Rome to serve at a conference there in June 2006.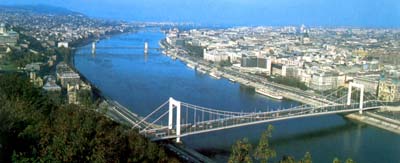 Budapest is the capitol of Hungary and the home of almost 2 million people.
Do you work together with any local churches or ministries in Hungary?

Yes, for one, our facility is used by several ministries and other churches for ministry events, conferences, prayer meetings, and outreaches. For example: 1) an Ex-Jehovah's Witness support group (20-25 people) uses a room in our facility weekly, 2) An independent prayer meeting uses a room every Friday 9pm-midnight, to pray for Israel, 3) A Christian acting group uses our stage weekly for their meetings, 4) Some of "our people" are involved in serving at the YWAM Coffee bar outreach weekly, 5) "Our people" are involved in an independent daily outreach to street orphans. The list goes on and on… God is good!
In your view, what should be the number one concern of leaders in the Calvary Chapel movement at this time in the movement's existence?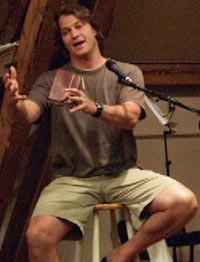 "Ministry should serve to build up people, not the other way around," says Pastor Greg.
First of all I can't imagine how I ever would have even gone into the ministry except for Calvary Chapel. I love this movement where ragamuffins and "regular people" can serve God. I thank God for the unique blessing He has poured out on Pastor Chuck and then onto all the rest of us…

So what is my number one concern of the leaders of the movement? Wow, what a question! OK … a few thoughts that have gone through my mind over the last couple years… That the overwhelming "success" of the movement wouldn't be our downfall. That we would know that if God has blessed us "big time" (and He has!), it is so we can love and serve people with a greater capacity, not so that we can become self-impressed and corrupted.

As Pastor Chuck has used the ministry to build people over the years – as opposed to using people in a carnal quest to build a ministry – I pray we all follow his example to the end, like him. With success and numbers and money and popularity can come "power trips" and politics. If these replace the preeminence of His LOVE in our lives, for the Lord, for one another as fellow pastors, and for the people we serve; if gimmicks and strategies replace prayer and the leading of the Spirit and a close adherence to the Word in all things, then I think we have much to be concerned about… God forbid it happens! Long live the movement! :)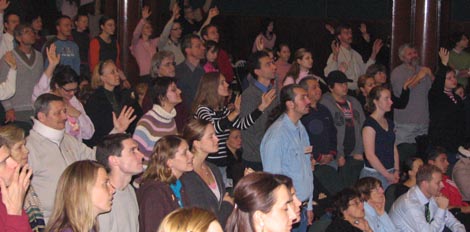 The congregation of CC Budapest is 90% Hungarian - the remaining 10% includes more than 15 different nationalities.
How can people best pray for CC Budapest right now, as you see it?

1) Pray for His leading in the launching of "Sunday Night Church" and God's timing on adding a 3rd Sunday morning and a second midweek Bible Study – we are thinking about adding a Thursday service, taught by a Hungarian. Right now our two Sunday and two Wednesday services are full.
2) That the Lord would raise up more Home-fellowship leaders and show us who they are.
3) Provision for the building of a coffee shop/study center in our foyer that would be open for fellowship and ministry all day every day to the thousands who walk by our doors daily.
4) Last but most important: That the Lord would baptize us afresh in His Holy Spirit and in His love.
What book(s) of the Bible are you teaching through at the moment, and what messages has God seemed to especially personalize for you as a congregation in that process?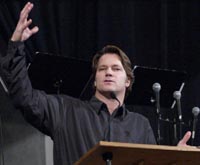 "God will open the way for those
who embark on ventures in faith"
- Pastor Greg Opean. Right now, we're going through Ezra on Wednesday nights, and 1.Timothy on Sunday mornings. In Ezra, God is giving us a view of His heart to restore those who have ruined their own lives… [a view of] how He will move heaven and earth to supply and open the way before those who embark on ventures of faith in bringing His message of Grace and Restoration to the lost and destroyed.

In 1.Timothy, we are seeing how God uses weak and flawed vessels. He uses men like Timothy who struggled with unmanly tendencies like wanting to bail out on his responsibilities and not wanting to deal with things. We are seeing that God will enable people like us, as we hold on to Him to do what He calls us to do.
If anyone reading this is praying about going to Hungary as a missionary, what preparatory advice would you give him or her?

I had no preparation… so I don't know what to say. I came to Hungary, not knowing anyone or anything about Hungary or any of the language. If God is truly calling you, He will give His love for the people, for the food, for the language. And LOVE conquers all! He will give grace for the frustrations… for where God guides He provides, does HE not?

I can say this: Don't come if you don't walk in GRACE… we don't need any hyper spiritual monsters on the loose here messing up the sweet thing God is doing by His grace.

* * *
You can read more about Calvary Chapel Budapest by visiting the church's official website.

If you wish to contact Pastor Greg Opean, please use the following email address: gregopean@yahoo.com.