Calvary Chapel Vienna, Austria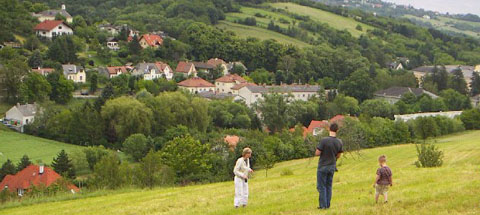 Continuing the 2005 series of interviews with pastors from various Calvary Chapels around Europe, Calvary News Network has put 10 questions to Pastor Shay Swanson of CC Vienna. Here, the American pastor describes how God is moving in Austria's mountainous mission fields, what it's like to serve in a place convicted by decades of Catholicism, and what practical challenges CC Vienna is faced with at the moment.

What is God doing in and through CC Vienna these days?

The Lord has been growing the church bit by bit and adding to the regular attending members. We've slowly been outgrowing the building over the past year and so we have been waiting to see what God will provide for us next. There have also been a lot of outreaches lately with different groups coming from the Bible Colleges in Germany, Hungary and Austria, so we are seeing the Lord bring more evangelists and people to sow the seed of the Gospel in the city of Vienna.
What books of the Bible are you teaching through at the moment, and what messages has God seemed to especially personalize for you as a congregation in that process?

We are going through Romans on Sundays and Joshua on Thursdays. The Lord has been speaking to us about being given to Him first (Rom. 12) and then to be ministering to others. We just went through Romans 13 and focused on waking up and reaching people for Christ. In the book of Joshua we just looked at the victory over Jericho and the failure at Ai because of the sin of Achan. I felt the Lord speaking to us about walking with Him in the "little things" and through the "little battles", and how that is important for the whole church. Also, in the "big decisions" Joshua failed to seek God and make a covenant with the enemy which was an irreversible mistake, and again, a lesson to wait on the Lord and seek His will first.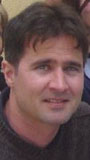 Pastor Shay.
What part of the culture and mentality in Austria is the biggest obstacle to overcome when advocating a personal, living relationship with Jesus Christ?

The Austrian culture is permeated by centuries of Roman Catholic influence. Although most people are not attending the Catholic Mass, they are influenced by the mentality that the Catholic Church is THE Church or the only representative of Christianity, even in its fallen condition. It feels a lot like "pre-reformation" Europe before Luther, Zwingli and Calvin showed that the Bible can be read and taught outside the Catholic Church. So the biggest obstacle to overcome is the prejudice and fear of a "free church" not linked with the official state churches.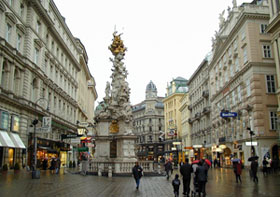 When we pass out tracts or start conversations with people on the streets or at the university the first question is "Was ist das für eine Sekte" (What cult is this)? So there is a need to establish credibility and acceptance apart from being grouped with the cults and sects that are fishing for people with no idea of what the Bible really says. The apprehensiveness and fear is linked with a confusion and lack of understanding of the Bible and spiritual truth. There is also a lot of universalism, "all roads lead to God" thinking which makes it difficult to share the one true Way to God.
What is the most rewarding part about serving God in Austria?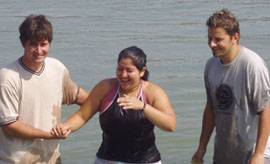 Pastor Shay (left) and a brother from the church
baptize a young woman from Vienna. The most rewarding thing is to see people grow in the Lord and start bearing fruit in a real relationship with Jesus. Then to see them want to share their faith and take a stand for their faith in their "mission field" all around them – they are usually the only Christian in their town or in their school. It's great to see lights being sent out into a whole new area or region of the city or country – like Paul said; where Christ had never been named he wanted to go and share there. There are a lot of towns all around Vienna and Lower Austria that have NO church whatsoever.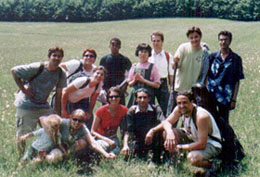 Ministry in Austria has its natural benefits.
During a church retreat there are many great
hiking opportunities...
Do you work together with other Calvary Chapels in Europe in any way?

We don't have any other Calvarys close by. We invite guest speakers and want to work with other churches in the city as much as that is available. We are also glad to have outreach teams from the Bible College in Hungary, Germany, and the Castle in Millstatt. It would also be great to see more churches planted nearby.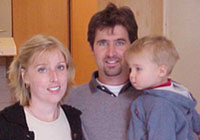 The Swanson family before the
birth of their 2nd child.
Do you work together with any local churches or ministries in Austria?

We were recently involved with the "Pray for Austria" inter-denominational prayer meeting and are involved with the Pro Christ outreach where there are about 15 churches working together. We also have a co-operative youth group work going on in an international school.
How did God call you to be a pastor?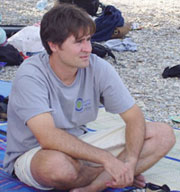 Shay Swanson is now serving
as a pastor in Austria in his
seventh year. I first felt called to work in Europe after coming as an exchange student to Switzerland in 1987 and to Germany in 1990. I didn't know what God wanted me to do but felt the need and the desire to come and work in the mission field of Europe. After a turn of events, I ended up going to the Calvary Missions Bible School at the Castle and then working with a Calvary in Spittal near the Castle and at the Bible College there as well. I enjoyed teaching the Bible, probably more than my students enjoyed me teaching it, but the calling to plant a church came over the next few years and the desire to teach and pastor, to care for the sheep also grew over the years of working in the Bible College and teaching Bible studies.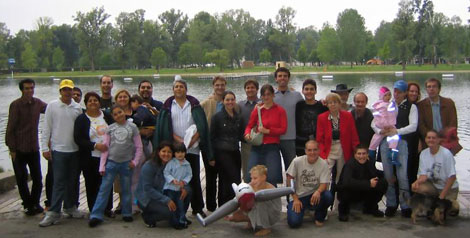 Part of the congregation of Calvary Chapel Vienna...
Can you give an example of how God has shown His faithfulness to CC Vienna this year?

First off, by providing for us. We have had very little support the past year and have been financially independent as a church for the past 2 years. The Lord has been faithful in building up the "core group" we have on staff in many ways. Our church has a number of students and people not so well off, so He has been leading and providing for us. The Lord is also constantly refreshing us when we need it, it can be difficult and we can sometimes feel isolated so the Lord is faithful to keep us strong in Him and serving Him in everything we do.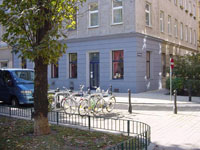 The home of CC Vienna.
How can people best pray for CC Vienna right now, as you see it?

For a new building. We rent the ground floor of a corner building not too far from the city center, and it comfortably seats 75 – however, we've had 95 in a service this fall. We have been in this building for the past 5 years, but now we need the Lord to provide the funds for a bigger place. Also, pray for unity in the body, there seem to be some attacks to bring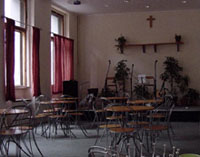 The sanctuary comfortably seats
75 people. More space is needed.
disunity and division into the staff. For a hunger for the Word in the body and a desire to grow in sharing their faith.
If anyone reading this is praying about going to Austria as a missionary, what preparatory advice would you give him or her?

Pray! Austria is a mission field in need of long term, committed missionaries, so you need to know that God has called you. Also, learn the language, people here speak German, and they need to communicate in their own language. It takes a long time to learn a language fluently so it helps to start studying the language before you come.

* * *
You can read more about Calvary Chapel Vienna by visiting the church's official website.