Calvary Chapel Tel Aviv, Israel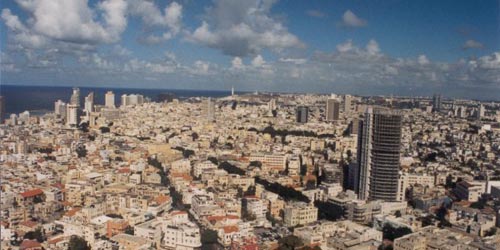 Continuing the 2005 series of interviews with pastors from various Calvary Chapels around Europe, Calvary News Network has put 10 questions to Pastor Stephen Apple of CC Tel Aviv. Answering from his house in the Holy Land, Pastor Stephen paints a picture of the ministry in »one of the most secular cities on earth,« and he tells the story of how the recent suicide bomb almost ended that ministry. Read his in-depth yet inspiringly worthwhile report of the remarkable prophecies that are being fulfilled before his eyes.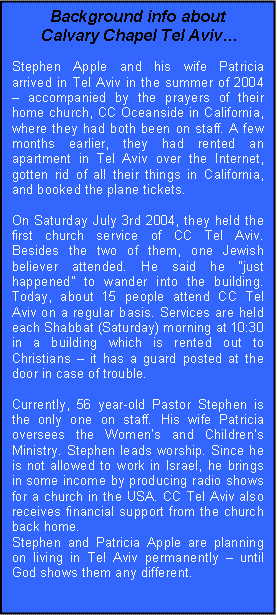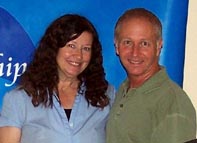 Stephen & Patricia Apple.
What is God doing in, through, and around CC Tel Aviv these days?

One of the main things that I felt God wanted us to do in Tel Aviv was to minister to the poor. This seemed an impossible task considering it was just my wife and I; with very limited resources. We prayed about it and left it in the Lord's hands. Then we began hearing from churches that were touring Israel. They started collecting supplies, bringing them along with them when they came. The people from the tour groups loved it because they were able to personally participate in blessing the people of Israel. So God gave us a sort of "pipeline" of needed supplies. It rises and falls with the tourism season, but we have a small storage area to keep the things as long as they will last in between outreaches.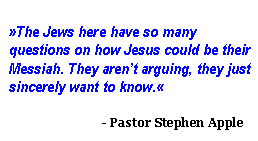 We then heard from church mission groups asking if they could come here on short/long term trips. With these groups and the CC Bible College in Jerusalem, God has answered our prayers for people to help distribute the supplies. God has used these outreaches in an incredible way. We set up tables for the supplies at a specific location. Next to the food and supply tables we put a team of musicians on a portable sound system given to us by CC Paso Robles, California. People gather to both receive supplies and/or to simply listen to the "concert" (as they call it). Then we have other people available just to talk to the people that come. It has been amazing to watch. We have been able to share both physical and spiritual food with a great many people. We overhear people say, "Let's listen to the concert", and then they sit down and listen for 2 or 3 hours to the gospel message in song. Others tell us that they don't need any food or supplies right now, but they offer to take it to people they know have nothing. At our last outreach, March 12, two men came over. One of the men said that he thought that he would not be able to eat that day… then he saw the outreach.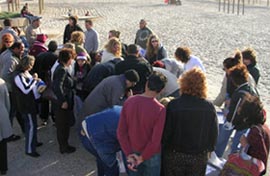 The street outreaches are an important part
of the ministry of CC Tel Aviv
.
He kept saying, "God bless you!" As we were gathering items to give them, they kept saying, "Don't give us too much, save plenty for others". The generosity of the people here is overwhelming. We will talk to people, sometimes over an hour. They have so many questions on how Jesus could be the Messiah. They aren't arguing, they just sincerely want to know. We have been able to give out tracts and Bibles in Hebrew, Russian, Spanish, English, and Arabic.
What is it like to be a missionary in the Holy Land, a country both oozing of biblical history and of such spiritual and prophetic importance?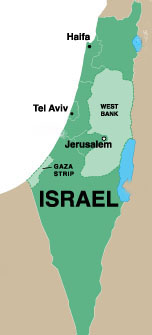 It makes the events in the Bible come alive. What is even more interesting to me, though, are the prophecies that seem to be unfolding before my eyes. We ask new Jewish immigrants, some who left very nice lifestyles, what made them move to Israel. Many tell us they have no idea why they moved here, they just had a burning desire to come.

We also are watching God slowly opening the eyes of His people. The Bible talks about God using the Gentiles to provoke His people to jealousy. We see that happening. People here tell us they see something different in us, that we have a peace they don't have. But it is also perhaps one of the most difficult places to evangelize on earth. The physical persecution in other countries can be much worse than here, but there are historical "hurdles" to clear here that do not exist anywhere else on earth. For thousands of years the Jewish people have been persecuted by rulers and people calling themselves Christians. These people thought that God would not mind if they "punished" the Jewish people for rejecting the Messiah. But, as the Word of God tells us, their rejection was all part of God's plan to bring salvation to all the peoples of the world. It was not the Jews who killed the Messiah, it was the sin of each person who ever lived, and the Lord willingly gave His life as an atoning sacrifice for all who would accept it.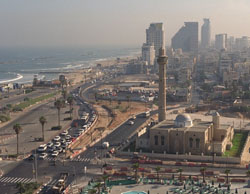 About 360,000 people live in Tel Aviv. It's interesting that today, in the birthplace of Christianity, less than 2 percent of the population is Christians. If you take out the Arab Christians from this figure, the number of Jewish believers falls to only one-fifth of one percent. In a city like Tel Aviv, which is one of the most secular cities on earth, I am sure the numbers are even less. Contrast these statistics to many Arab nations in which there is a 2 to 10 percent Christian representation in the population. But I love these people … they are my people. More importantly, they are the chosen people of our Heavenly Father, and He has called us (all Christians everywhere) to show His love and peace.
What part of the culture in Israel is the biggest obstacle to overcome when advocating a personal, living relationship with Jesus Christ?

Until this last intifada (violence that started October 2000), the Jewish people overall had a very bad impression of Christians. For many years the church taught that they had replaced the nation of Israel as God's chosen people. The worldly, false church has routinely opposed the tiny nation of Israel. The Jewish people today see even Hitler as a "Christian" who was never excommunicated by the Catholic Church after all the horrible things he did. Putting all this together, it used to be very difficult to share about Jesus with the Jewish people.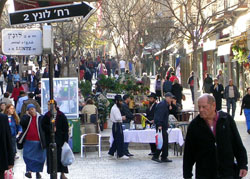 Christians in Tel Aviv don't have to worry
as much about persecution from the
religious Jews as in other parts of Israel.
Around 2000, however, things started slowly changing. The Jewish people started noticing that there was a distinct group of Christians called "Evangelical Christians" who supported the nation of Israel and their Biblical rights to the land of Israel. People here started talking about how "Evangelical Christians" were the only friends that stuck by them, and that they were the only people that continued to visit them through the violence. We've had numerous people, with tears in their eyes, thank us for sticking by them. God is using the supplies that groups are bringing to reinforce this feeling among the people. Also, Tel Aviv is extremely secular compared to the rest of Israel. Ironically, because of this, we don't have to be as concerned about persecution.
Does the occasional horror of suicide bombs affect your ministry, your feeling of security, or your desire to stay in Tel Aviv in any way?

We have had two bombings specifically in Tel Aviv while we have been here. We have definitely been protected by God. We had planned on being at the Shuke (outdoor market) at the exact time when the bomb went off there. The only reason we weren't there was because we had received unexpected company the night before and had slept later than normal (see Proverbs 16:9).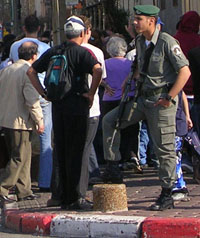 The day after the bombing in Tel
Aviv in February 2005.
The latest bombing in February is a perfect example of how God turned what Satan meant for evil into good. We had an outreach planned for March 12. Two weeks before that date, the students from the Bible College in Jerusalem were scheduled to come on Shabbat (Saturday), attend our service, and then go to where we have our outreaches for a time of prayer. The bombing happened at 11:30 Friday night, across the street from where we have our outreaches. So the Bible College Students were here to help us minister to the many grieving, confused people. You have to understand that, to the people of Israel, peace is the single most important issue in their lives. For centuries, they have only known persecution and harassment. When we simply let God's peace "shine" from our lives, He attracts people to His light. To them, peace is of the utmost importance.
What type of people make up your congregation?

There is no typical congregation that I can describe. Native born Israelis, Jewish immigrants from the former Soviet Union, visiting Europeans, and American Christians, poor and not as poor. I never know who will be there … only that the Lord desires that we feed them from His Word.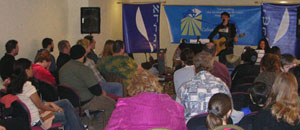 CC Tel Aviv has its services each Shabbat (Saturday).
God is bringing the Jewish people back from every country. Because of this, it is a very eclectic group that attends our services. Many people attend who aren't believers. We have met them at our outreaches and they come because they want to know what would motivate us to give to the poor, and why we seem to have the peace they have sought after all their lives.
What are some of the church needs that CC Tel Aviv is lifting up to God in prayer right now?

The number one thing is that we would be lead by the Holy Spirit in all we do so we don't waste time or resources. Then, for continued supplies, people coming to help, and resources to continue planting and harvesting. That God would provide a larger storage space for these supplies. For the people that we have been able to share with; that the "seed would fall on good soil" and grow into fruit that glorifies God; that the people we meet at these outreaches would come to know the Lord, fellowship, and grow in Him.
Do you work together with other Christian ministries in Israel or in Europe in any way?

I meet once a month for prayer with Pastor Bradley Antolovich who is the Pastor of CC Jerusalem and the senior CC person in Israel. At those meetings I also meet with Mike Harrington who oversees the CC Bible College in Jerusalem. There is also a CC outreach to the Arab people done by another brother and a new CC being planted in the Galilee area of Israel. Please pray for these groups as well. Currently, my "universe" is relatively small since my wife and I have to walk everywhere. I would like to work with ministries in Europe but have no real contact there yet. We are making contacts in Israel and beginning to work with some existing ministries in the land.
How did God call you to be a pastor and to go to Israel?



"God's timing isn't our timing," Stephen testifies.
Before I married my wife (over 31 years ago), I told her that I felt that God was calling me to Israel one day. We were young and ready to go then, but God, in His infinite wisdom, had a different timing. Then fast-forward almost 26 years. We had attended CC Oceanside in California for 15 years. I was an Administrative Pastor there, and my wife oversaw the Children's Ministry. One of our daughters had just married the Youth Pastor at CC Vista, California (10 minutes away), and our youngest daughter was at Murrieta Bible College, which was 40 minutes away. We had no desire to ever leave; we were surrounded by our family and friends.

But, as I said before, God's timing isn't our timing. Completely out of the blue, I felt God tell me it was time to start getting ready to leave for Israel. At that point we had never even visited here, but over the months, He confirmed the calling in many undeniable ways. I started studying Hebrew. I now converse with most people on the street in Hebrew, although many times I see them smile as I say something incorrectly. It's a humbling process, but one that is necessary if we are to become one with the people here.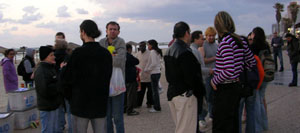 At each outreach, the team from CC Tel Aviv
experience a great openness of heart in the people
of the city - in spite of it being nicknamed the "City
of Sin"
.
What's the best part about ministering in Tel Aviv?


The openness of the people in Tel Aviv! We are watching God literally opening the eyes of His people. For example, at one of our outreaches, an elderly Jewish man named Moses accepted Jesus as his Messiah. He said all his life he had been looking for peace, and now he has found it. Another man said he was the 6th generation of his family to live here, and that we were the first ones to ever tell him about Jesus.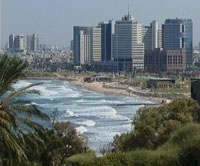 Located by the Mediterranean Sea,
Tel Aviv is the second largest city
in Israel
.
Before we moved to Israel, we checked out a couple of tour books from the library. They both said the same thing; that there were three main cities in Israel. There was Haifa, which is the "City of Work", Jerusalem, which is the "City of Prayer", and Tel Aviv, which is the "City of Sin" where no one ever prays. We are totally amazed how secular this city is. God is using it, though. The bad news is that the people of the city are open to anything … the good news is that the people of the city are open to anything. We don't have to be concerned that the Religious Jews will try to stop us. More important, the people here aren't caught up in their traditions. Because of this they are far more open to the Gospel.
If anyone reading this is praying about going to Israel as a missionary, what preparatory advice would you give him or her?

Get dedicated people to commit to pray for you regularly while you are here (and as you prepare to go). Then, be ready to move quickly. A pastor here told me that I would be amazed how fast God works here. I thought he meant that there was not a lot of bureaucratic "red tape" in the government. That's not what he meant at all. It is God Who is opening so many doors and moving on people's hearts far faster then we expected. The foundation is prayer!



This summer, Stephen & Patricia Apple will have served in Tel Aviv for one year.
* * *
You can read more about Calvary Chapel Tel Aviv (including Pastor Stephen's newsletters) by visiting the church's official website.






If you wish to contact Pastor Stephen Apple, you can do so by emailing him directly at: stephen@calvarytelaviv.com.
Other useful links:
Calvary Chapel Bible College in Jerusalem
Calvary Chapel Jerusalem
For Zion's Sake