Calvary Chapel Munich, Germany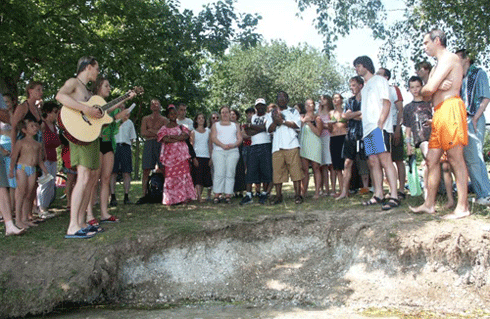 Continuing the 2005 series of interviews with pastors from various Calvary Chapels around Europe, Calvary News Network has put 10 questions to Pastor Torsten Johnson of CC Munich. Answering from the ministry fields of Southern Germany, Pastor Torsten explains why he thinks that a large revival in Germany could be just around the corner, how to prepare oneself for missionary ministry, and what Bible verses that got him through the most fierce attacks from the enemy.
What is God doing in, through, and around CC Munich these days?

I think the Lord is developing a real hunger within the people of our church to grow deeper in Jesus and to be open and willing to step out in radical ways to serve Jesus, should He call. We have a weekly radio show where we teach through the Bible, which is pretty unheard of in Germany. It will be interesting to see if God wants to do anything there. Also our children's ministry has a lot of potential and thus it's going through a huge attack. I really think God wants to do some cool things through our kids' ministry in order to reach our neighborhood.
What part of the culture in Germany is the biggest obstacle to overcome when advocating a personal, living relationship with Jesus Christ?

I think that would be showing a German first off that he or she needs Jesus. Secondly, to teach a believer to trust Jesus and not worldly security. Finally, and perhaps the most crucial and most difficult, is teaching a believer that God is not so interested in what a person "does" for Jesus but who he or she "is" in Jesus.
What are some of the church needs that CC Munich is lifting up to God in prayer right now?

That the church, meaning each individual person, would experience an outpouring of God's Spirit, a filling with the gifts of the Spirit, and a hunger to go deeper in their love for and knowledge of Jesus… basically that each person would experience a deep, deep personal revival.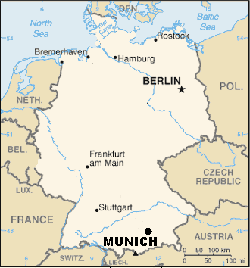 What is the spiritual situation like in Munich and in Germany right now?

I personally think there is a lot of potential here for God to do something great. How the Lord might want to bring that about, I am not sure, but I sense that Revival is only waiting for the word "Go" to come from God's mouth. In Munich, a lot of the churches are coming together, both Charismatic and Evangelical, to work together and try to grow together in Jesus. In 2006, ProChrist will be broadcasted to all of Europe out of Munich (read more here).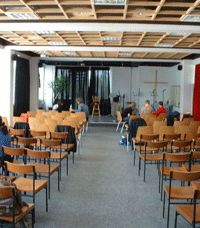 CC Munich's sanctuary.
Do you work together with other Calvary Chapels in your region or in Europe in any way?

I wouldn't say that I work with them. We have done our church retreat two or three times together with the church in Freiburg, I have guest preached at different Calvary Chapels in Germany, as well as had a few of the other pastors preach in our church fellowship. Calvary Stuttgart sent a team of construction workers down to help us. I do meet with the other pastors relatively often, though, at either the Missions Conference or other get-togethers.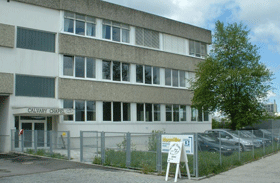 CC Munich's church building.
How was the movie 'The Passion of the Christ' received in Germany?

Nothing like in America. For the most part, I think most Europeans are so far removed from the message of the cross and Christ's death that they don't even get the point of the movie I mean, in their thinking there is no story line, just violence what is the point?!?!" From the little I have read in German newspapers about the movie, very few secular Germans, if any, had an idea of what to make out of the movie.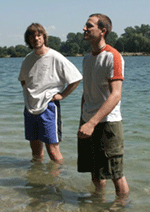 Pastor Torsten (left) listens
to a young man's testimony
before baptizing him in
the lake
What book of the Bible are you teaching through at the moment, and what messages has God seemed to especially personalize for you as a congregation in that process?

Right now, we are going through the Book of Joshua. The message for us seems to be: "Never be satisfied with how far you have gotten in your relationship with Jesus, because there is still so far to go."
How did God call you to be a pastor?

I heard my pastor teach the Word and God gave me a desire to do the same. My heart for Germany was due to the fact that this is where I was born and I still have a lot of family here.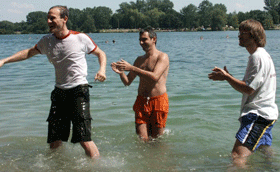 A new man! The baptism is celebrated instantly...
Have you ever had moments when you thought about giving up the ministry? If so, why and what got you through?

Yah, three or four times. I guess what has gotten me through has been a little reverse psychology. I figured that if Satan was attacking me so much despite the fact that my church and ministry is so small and insignificant in what it is accomplishing, then perhaps God has great plans for the ministry and Satan knows that. I presume he thinks that if he attacks early and hard that he can snuff me out now before anything big happens. God is a Rewarder of faithfulness, so I just try to stay faithful. The verses that have convinced me and carried me through the hard times have been 1 Corinthians 2:9, 1 Corinthians 15:58, Galatians 6:9, and Hebrews 6:10.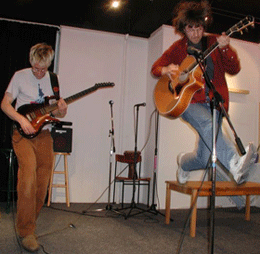 Worship getting airborne.
If anyone reading this is praying about going to Germany as a missionary, what preparatory advice would you give him or her?

Three things:
First, God wants and works through "F.A.T. people" (Faithful, Available and Teachable).
Secondly, before you can have a ministry goal, a person needs his or her own spiritual goal. Chasing this spiritual goal must take priority over any kind of ministry. According to Jesus (John 17:3), Paul (Philippians 3:8-14), Peter (2 Peter 1:2, 3), and John (1 John 2:12-14), this goal is to be HUNGRY to grow more and more in the knowledge of Jesus. Spiritual maturity is not measured by how well we know Jesus, but by how hungry we are to know him better. This should be every Christian's desire, but especially true of those who are desiring to be leaders in the body of Christ.
Thirdly, one's ministry goal or vision should be to be spent helping others set and achieve the above mentioned spiritual goal.
Points 2 and 3 actually fulfill what Jesus said in Matthew 22:37-40 when He said that the two most important commandments in the Bible are to love God as much as possible and to love your neighbor as you love yourself.


From Munich with love...
* * *

This article was written in 2005 and is an historic article, the Pastor of CC Munich is now Stefan Hoefer (2012)