Calvary Chapel Priluki, Ukraine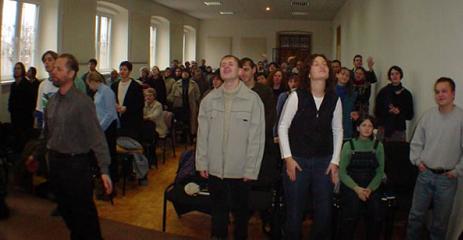 Continuing the 2005 series of interviews with pastors from various Calvary Chapels around Europe, Calvary News Network has put 10 questions to Pastor Paul Sisemore of CC Priluki. Answering from the Eastern European frontline, Pastor Paul shares about how God called him into the ministry, about how that call has remained absolutely foundational, and about the "Book of Acts scenarios" which the church is going through in Ukraine right now.

What is God doing in, through, and around CC Priluki these days?

The church continues to have new visitors each and every week. In addition to this, we have had many "Christmas Teas". We work in many orphanage homes as well as children's homes for invalids and we also help out in schools. We invite the teachers to come in order to say thank you for their service to the community and also to bless them with a holiday, small party, and a gift. We often have the entire staff show up. During these times we also share about how the Lord has changed our lives. Different men and women from our fellowship share during these times.
What are some of the church needs that CC Priluki is lifting up to God in prayer right now?

At this time we are transferring much of the government of the church over to nationals. God has blessed us with many capable men who serve along side of me. This is also happening in the women's ministry as well. We are rich beyond belief in this area. Pray that God would gift, empower, and lead these men and women as they assume more of the burden and responsibility for daily ministries. Also, we have a Bible College that will be starting in March for Ukrainians. We have a great opportunity to help train yet another group of pastors in Calvary Chapel as well as in some of the other churches here in Priluki. Our relationship with other pastors in the city is very good and many desire further training.
Ukraine went through a turbulent period in connection with the presidential election in late 2004, with the opposition's candidate being poisoned and revolution-like demonstrations in large parts of the country. Has the dubbed "Orange revolution" had any form of effect on the ministry opportunities in Ukraine?

The open door in Ukraine to minister has been open and continues to stay open. However, due to the election, many came together putting away differences and began to pray for Ukraine and the president. Each morning thousands gathered in the center of Kiev to pray and if I may say, that was the most astounding part of the "orange revolution". Several people from our fellowship went to be a part of this and brought back glowing reports. As we have been praying for an outpouring of God's Holy Spirit upon Ukraine and real revival, we think perhaps this is the beginning! People are ready to hear! I have never lived in a place so open and I have ministered in the USA, Mexico, Russia, and Ukraine. I feel as if I am living in the Book of Acts.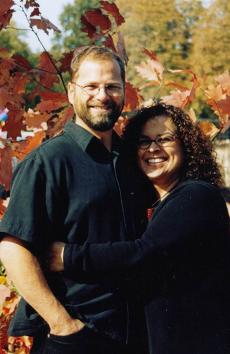 Paul & Teri Sisemore have been married
for over 28 years. They've lived in Ukraine
since 1998.
What is the hardest part and what is the most rewarding part about doing ministry in Ukraine as foreigners?
The hardest is learning the language, especially where there are two languages spoken and a mixture of the two. Though I do not preach in Russian yet, I am able to lead discipleship classes, prayer meetings, business, and any personal relationships fully in Russian. Lord willing, I will soon preach all of my messages in Russian.
Also, leaving our daughter and her husband in America was pretty hard. Our first grandchild will be born this month and the cost in dying to self each and everyday grows more expensive. However, seeing people's lives transformed up close by the power of God is worth everything. I think many ministers would love to see what we are seeing everyday.
How was the movie "The Passion of the Christ" received in Ukraine?

Great! However, only in the biggest of cities as there are so few theatres operating in Ukraine. We showed it in our church and several were saved. During the next 6 months we will be showing it in and around the villages near Priluki as an outreach tool.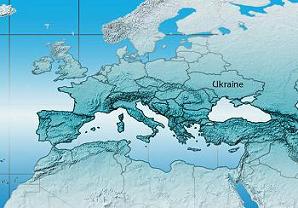 Do you work together with other Calvary Chapels in your region or in Europe in any way? If so, in what way?

In Ukraine, the pastors get together 3-4 times per year and pray and fellowship together. In the last few years it has resulted in a National Conference. We also send teams to help in outreaches and do regional conferences together. Though the distances are great, we have a fantastic working relationship. In Europe, I have been a regular speaker at the Bible College in Austria (now in Hungary). In fact, many of our missionaries have come from these places.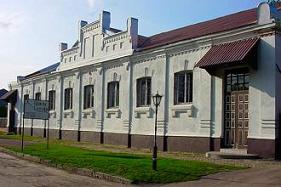 CC Priluki purchased this former bath house in
2002 for $26,000 and spent an additional $60,000
installing heating and renovation.
What book of the Bible are you teaching through at the moment, and what messages has God seemed to especially personalize for you as a congregation in that process?

On Thursdays we are teaching through 2 Samuel and on Sunday mornings, the book of Revelation. We will finish this book next week and then we go back to Matthew. We also teach the book of John in regular meetings for the blind.

The message for our congregation is "Not by might, nor by power, but by My Spirit, says the Lord of hosts". It is a personal word to me from our Lord and He said that nothing would be done in my life or in Ukraine unless He did it. We continue to look up!
How did God call you to be a pastor back in the day?

I had the job of all times where we were living. I was a nuclear power plant operator in California. I had been there for 10 years during which time I served as an elder and the youth pastor of Calvary Chapel Arroyo Grande, California with Pastor Steve Carr. It came to the point where I could no longer do two jobs effectively, so one had to go. I asked the Lord to take away the desire to minister or release me to pour myself out.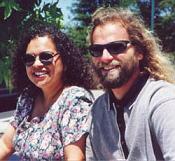 Paul and Teri took quite a step
of faith by moving to Ukraine
from California. It was quite a step of faith for our family of four. Financially set, seniority in a great job, plus time to minister, and the fact that the church had no money to pay me. But His voice was clear and as we prayed along with the elders, we all took a step together. Without saying a word, tithing went up almost 20% and they never missed a pay check and I never missed the old job! Three years later we left for Ukraine to begin ministering with Eastern European Outreach and assist George Markey at Calvary Chapel Kiev. 18 months later we moved to Priluki.
Have you ever had moments when you thought about giving up the ministry? If so, why and what got you through?

Sure, especially when it gets real hard! Our daughter had a miscarriage while we were serving in Ukraine. Next, our son, while we were visiting in America, was assaulted and our home broken into and his wife along with other missionaries were threatened. When there are interferences from authorities and as you can imagine spiritual warfare, personally as well as in the mission, it's very real. But each and every time, my wife and I have fallen back on our call. God called us here and knowing that has made all the difference in the world. I tell each and every person seeking to live on the mission field, be sure of one thing, that it is God who has called you to this, not just a desire or dream. The only thing that will sustain you in trials is His word to you!
If anyone reading this is praying about going to Ukraine as a missionary, what further preparatory advice would you give him or her?

Make sure of your calling! Serve right where you are with all of your heart, a change in location will not alter what is in your heart. If you are serving at home and God is leading you, then although different, the fundamentals will be the same on the field. Also, take care of any thing in your character or personality that is hindering you as it will be magnified a hundred times on the mission field. I also recommend reading "On Being a Missionary" by Thomas Hale, "Spiritual Secret" by Howard Taylor, and "George Mueller of Bristol" by Pierson.
And finally, make sure that you are baptized in the Holy Spirit, for it is only by His Spirit, not by might or power!

* * *
You can read more about Calvary Chapel Priluki by visiting the church's official website.

If you wish to contact Pastor Paul Sisemore, you can do so by emailing directly him at: PaulEEO2@aol.com.

To get more information about Calvary Chapel ministry in all of Ukraine, please visit www.ccmukraine.org.